MS-CORE
---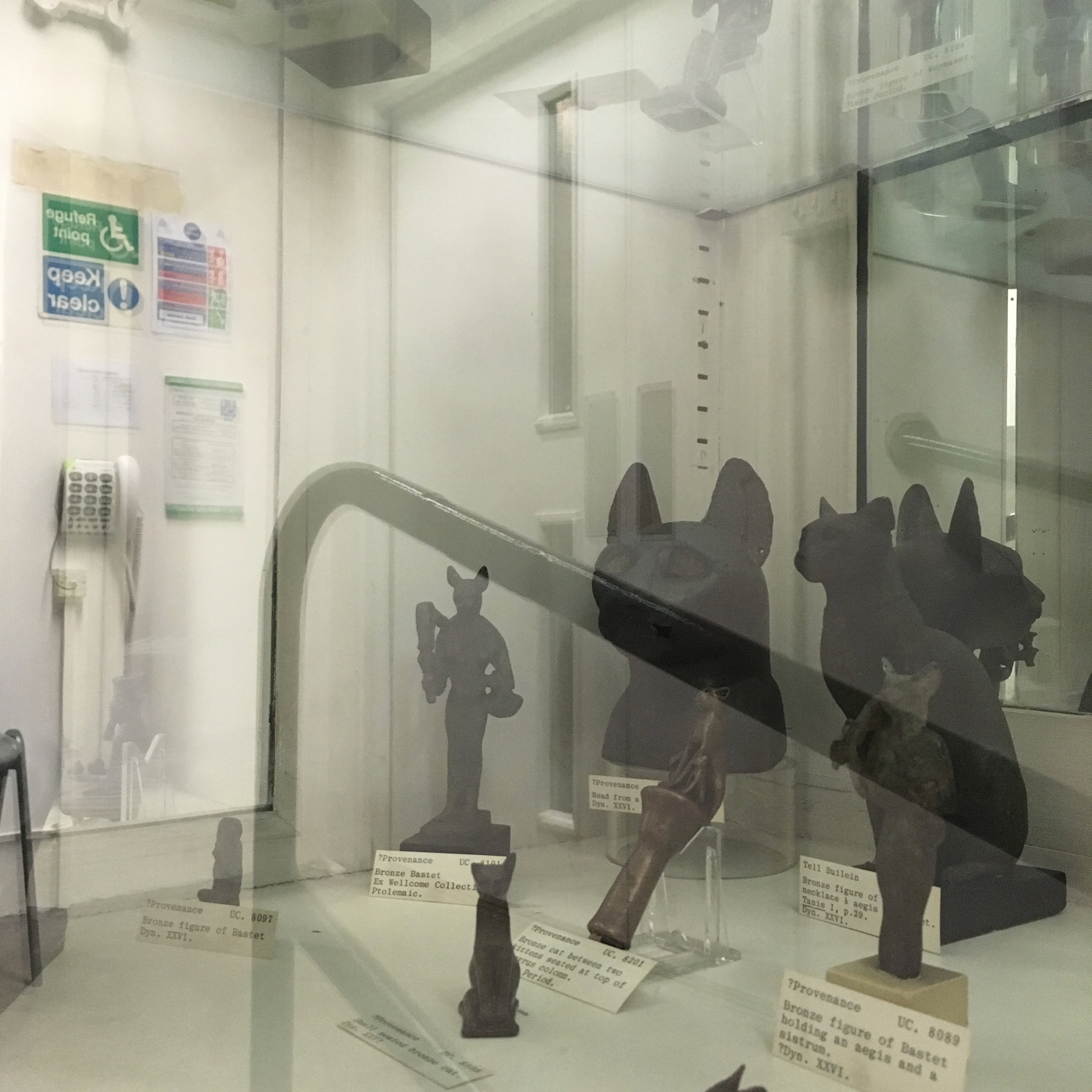 Image: Corridor reflected in display cabinets, Petrie Museum of Egyptian Archaeology
---
SURVEY: THE BODY WITHIN A SITE
Juliet Haysom
Tues, 2-5pm, Room TBC
This course examines the idea of the survey. Using observational techniques; historic and contemporary measuring devices; and their own invented apparatus, students will identify and record salient quantities and qualities of a museum site in the form of drawings.
Our site for this course will be the The Petrie Museum of Egyptian Archaeology at UCL (Malet Place, Bloomsbury, London WC1E 6BT). Flinders Peitre carried out extensive surveys of archaeological sites in Egypt between 1880 and 1930, and his pioneering methodology resulted in documentation that remains authoritative to this day. His tools and working method will be compared with various contemporary approaches to site analysis and observation.
Using Petrie's legacy as a starting-point, we will adapt, design and use our own apparatus with which to carry out individual site surveys. Students will learn how to use contemporary industry-standard surveying equipment hand-in-hand with their own invented devices, cutting through extraneous detail in order to identify the salient quantities and qualities of the museum building and the collection it contains. We will study exemplary drawing precedents in order to identify an appropriate visual language of our own. Finally, we will represent our findings as plans, sections, elevations, timelines, diagrams or any other appropriate form of drawing. These drawings will describe our close reading of the specific "conditions, situations, and values"* found at our site, and in so doing we will gain greater insight into the limitations and the creative potential of taking the measure of a place.
*'Survey, v, 1.Trans. To examine and ascertain the condition, situation, or value of, formally or officially, e.g. the boundaries, tenure, value, etc. of an estate, a building or structure, accounts, or the like; more widely, to have the oversight of, supervise.' p309, Oxford English Dictionary

Course Outline

Session 1: RESEARCH
Tuesday 9 Jan / 13 Feb
Introduction to Petrie museum and collection by museum curator.
Introduction to contemporary measuring devices by Surveyor.
Introduction to techniques for identifying and recording qualities of place by Geographer.
Sketches, studies, first drafts.
Session 2: DESIGN AND DRAWING
Tuesday 16 Jan / 20 Feb
Observing and recording within the site.
Development of designs for measuring equipment to be developed, adapted or repurposed
Session 3: DESIGN AND DRAWING CONTINUES
Tuesday 23 Jan / 27 Feb
Working on-site to continue to observe and record its various aspects.
Session 4: DRAWING
Tuesday 30 Jan / 6 March
Concluding individual drawing/s within the studio at AA.
Final Jury

Biography:
Juliet Haysom trained in Fine Art at The Ruskin School, University of Oxford 1998-2001, The Royal College of Art, London 2002-04, and completed RIBA Part-1 at the AA 2011-13. She is currently developing two solo artist's commissions within the site of a 19th-Century prison and a new pedestrian route in Bristol, and is Lead Artist for a new park on Unity Street in Bristol.

Submission Requirements:
Original survey drawings; documentation of measuring devices used and invented.