MS-CORE
---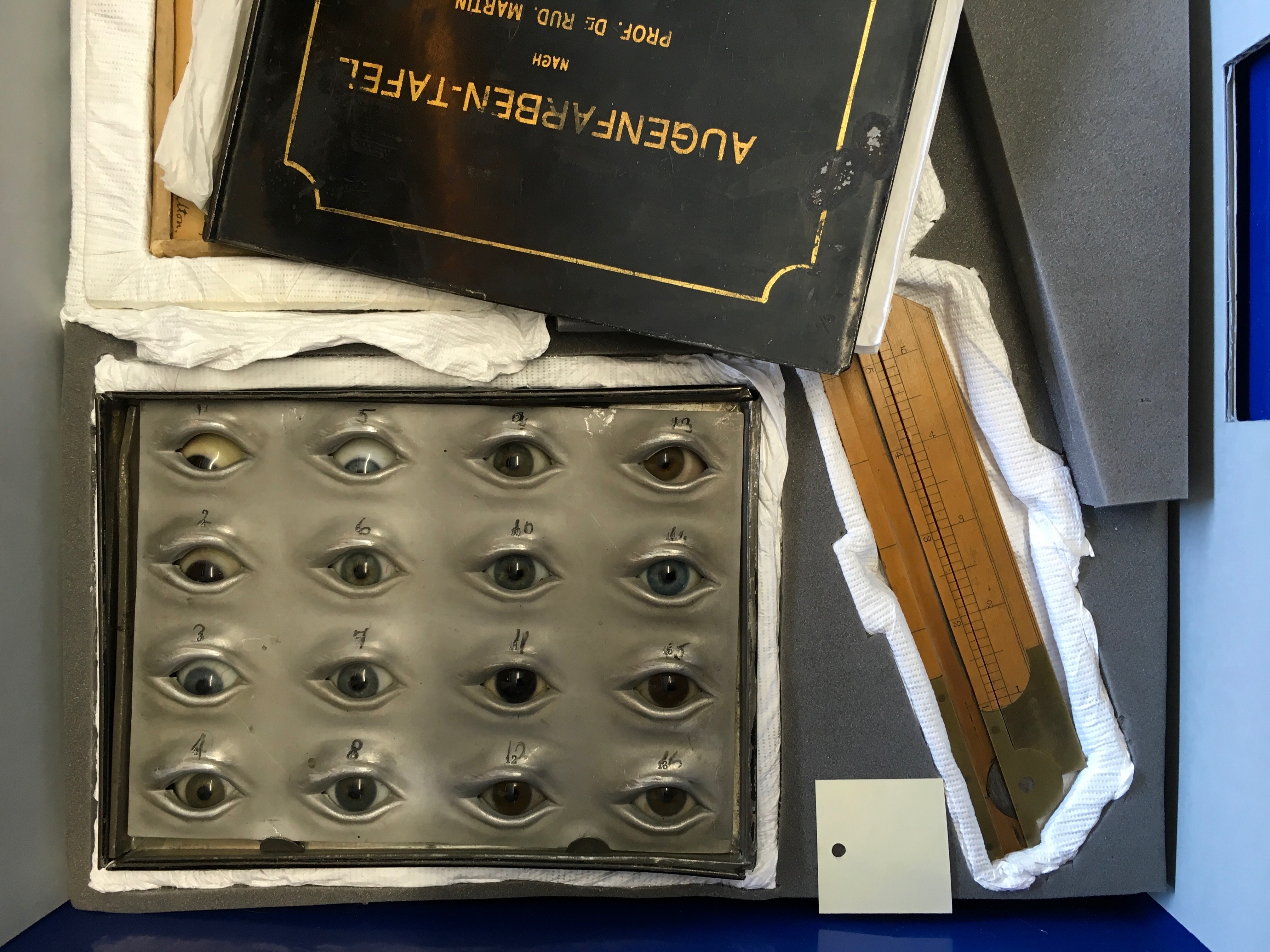 Image: Glass eye colour chart and folded measuring device, Galton Collection
---
SURVEY: THE BODY AS A SITE
Juliet Haysom
Tues, 2-5pm, Room TBC
This course examines the idea of the survey. Using observational techniques; historic and contemporary measuring devices; and their own invented apparatus, students will identify and record salient quantities and qualities of a body in the form of 1:1 drawings.
Our enquiries begin within the Galton Collection of at University College London. Galton, a poineering 19th Century British scientist, invented various instruments which he used to measure and collect anthropometric data. Curator Subhadra Das will introduce us to a selection of these devices such as the Hyperscope (for seeing over the heads of crowds), Counting Gloves (which allowed him to collect data without being observed), and Craniometers (for measuring the size and shape of the skull). We will discuss their visionary social intentions and sometimes darker political implications.
Using Galton's devices as a starting-point, We will adapt, design and use our own apparatus with which to carry out individual surveys. Students will learn how to use contemporary industry-standard tools hand-in-hand with their own invented devices, cutting through extraneous detail in order to identify the salient quantities and qualities of a body. We will study exemplary drawing precedents in order to identify an appropriate visual language of our own. Finally, we will represent our findings as plans, sections, elevations, timelines, diagrams or any other appropriate form of drawing. These drawings will describe our close reading of the body's specific "conditions, situations, and values"*, and in so doing we will gain greater insight into the limitations and the creative potential of taking its measure.
*'Survey, v, 1.Trans. To examine and ascertain the condition, situation, or value of, formally or officially, e.g. the boundaries, tenure, value, etc. of an estate, a building or structure, accounts, or the like; more widely, to have the oversight of, supervise.' p309, Oxford English Dictionary

Course Outline

Session 1: RESEARCH
Tuesday 3 Oct / 7 Nov
Session based within the UCL Pathology Collection (Royal Free Hospital Campus of the UCL Medical
School, Pond St, London NW3 2QG).
Introduction to Galton's collection & discussion with Curator.
Introduction to contemporary measuring devices to be used in conjunction with invented devices.
Sketches, studies, first drafts.
Session 2: DESIGN AND DRAWING
Tuesday 10 Oct / 14 Nov
Working with two life models to make recordings of various aspects of the body.
Development of designs for measuring equipment to be developed, adapted or repurposed.
Session 3: DESIGN AND DRAWING CONTINUES
Tuesday 17 Oct / 21 Nov
Working with two life models to continue to observe and record various aspects of the body.
Session 4: DRAWING
Tuesday 24 Oct / 28 Nov
Concluding individual drawing/s within the studio
Final Jury

Submission Requirements:
Original survey drawings; documentation of measuring devices used and invented.